"By emulating the way the brain interacts with the world, the goal of neuromorphic computing is to create intelligent machines that can reason, learn, and adapt as humans do."
The central research focus of the NeuRonICS lab is to understand the principles of brain computation and to apply this understanding in electronic systems for building intelligent systems. Engineers have a lot to learn about computation from the brain, which has evolved over billions of years to solve difficult engineering problems. Efficient, parallel, low-power computation is a hallmark of the brain, and to be able to replicate this in electronic systems is one of the goals of the lab. Research interests of the lab span a broad range of subjects such as ASIC/FPGA VLSI design, analog IC design, brain-inspired algorithms, computational neuroscience, machine learning, and event-based sensors.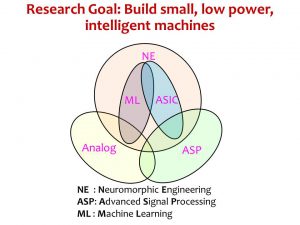 One of the most rewarding aspects of working in the NeuRonICS lab is the interdisciplinary nature of our research and collaborators. Researchers will get an opportunity to collaborate with world leaders in the field of neuromorphic engineering. At IISc, our lab works closely with various departments and centres such as the ECE, Centre for Neuroscience, and Centre for Brain research.